Traumatic Injury Treatment in Sandusky, OH
Professional Help for Work Injury and Personal Injury Accidents
If you have been injured at work or in an accident, don't risk your health and wellness for the rest of your life. Left ignored and untreated, injuries sustained in the workplace or due to another accident can often worsen, causing complications down the road. Visit our staff at Sandusky Wellness Center as soon as possible in order to begin to receive specialized medical and chiropractic care that can help you make a full recovery possible. Our highly-trained physical therapy professionals will not only help you recover from your injury — we'll help you to strengthen and stabilize your body, ensuring a healthy, injury-free lifestyle going forward. Our goal is to help you recover and return from injury in a great physical condition so that you can begin to live your normal life again with as little pain as possible. Learn more about our traumatic injury treatment services below, and call our office at (419) 625-8085 to schedule a free consultation today!
The Benefits of Professional Injury Treatment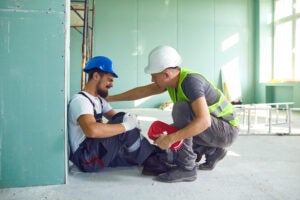 An injury in the workplace or at home can be a major inconvenience. Let untreated, it could turn into a lifelong problem. Getting professional treatment for your personal injury is important in helping you return to healthy form a fast as possible, and in minimizing your chances for complications down the road. Working with a medical professional like a chiropractor or physical therapy specialist here at Sandusky Wellness Center will give you the resources and specialized treatment you need to optimally recover. Failing to do so could result in long-term consequences. Without seeking care soon after an accident, you could suffer from:
Adhesions
Lingering Scar Tissue
Muscular or Tissue Degeneration
Chronic Pain from an Incomplete Recovery
Traumatic Injury Treatment at Sandusky Wellness Center
At Sandusky Wellness Center, we provide comprehensive, highly-specialized personal injury treatment plans to help our patients fully recover from their specific injuries. When you work with us, we'll pair you with a chiropractor or physical therapy specialist with special expertise in your type of injury, and give you a host of treatment options designed to help you recover efficiently and effectively. We combine decades of experience with cutting-edge technology to help you optimally recover. If you've been injured, don't wait — call us today!
Contact Our Personal Injury Wellness Professionals
If you are suffering from a work-related injury or a personal injury accident, you can count on our team at Sandusky Wellness Center to provide the quality treatment you deserve. Call us today at (419) 625-8085 for a free evaluation. We serve Sandusky and the surrounding areas.
Why Choose Us
Our Approach to Healthcare
Chiropractic and Medical Care
Our Experience
We Have Fun
Family Atmosphere
You Don't Have To Wait Long