Learn About Sandusky Wellness Center in Sandusky, OH
About Us
If you have been looking for a quality chiropractor, you're in the right place. Sandusky Wellness Center in Sandusky, OH helps promote healthy lifestyles and improve the overall well-being of both adults and children. We offer expert chiropractic care designed to alleviate painful symptoms associated with injuries and diseases, prevent new injuries and illnesses, and help patients maintain stronger, healthier lives. Our advanced chiropractic treatment will not just treat symptoms – our unique approach is to heal the cause of your symptoms. If you are suffering from back pain or neck pain or have sustained an injury from sports or an auto accident, let us help guide you on your road to recovery. Schedule an appointment today and discover lasting relief.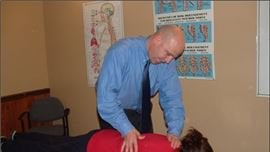 Our Modern Chiropractic Services
We are proud to provide the finest chiropractic services to patients of all ages. At Sandusky Wellness Center, you'll discover a complete range of advanced chiropractic and wellness services that will help you find relief, recover, prevent injuries, and achieve your goals of total health. Patients can expect expert chiropractic techniques, guidance, and counseling custom-tailored to their precise needs in a relaxed, comforting atmosphere. Our comprehensive health services include:
Discover Long-Term Relief from Your Pain and Discomfort
Quality chiropractic care can help our patients find relief from a variety of ailments and with our comprehensive chiropractic treatments, you'll have the perfect solution to relieve your body of unnecessary pain and discomfort. At Sandusky Wellness Center, we treat patients with a wide range of conditions, such as:
Allergies – Chiropractic treatment can help provide a boost to your immune system to be more effective in fighting off allergies. Equip your body's ability to be more prepared to reduce allergy symptoms by seeing our expert chiropractors today.
Disc Problems – Conditions in the intervertebral discs of your spine, whether from trauma or aging, can be significantly reduced and possibly eliminated through the care of a qualified chiropractor. Our doctors have the expert ability to help you find relief from spinal conditions such as disc problems, allowing you to experience long-term relief on your road back to recovery.
Whiplash – Find relief from injuries caused by whiplash. Our chiropractic care can help those who suffer from whiplash restore movement and functionality while bolstering their overall health and well-being.
Joint Dysfunction – Our chiropractic care professionals can diagnose and treat dysfunctions in your joints, whether from injury, overuse, poor posture, or muscle imbalance to help you get the relief you need and restore your mobility.
Neck and Back Pain – We can provide chiropractic adjustments to align your spinal column and relieve pressure on joints and nerves. Neck and back pain can be caused by misalignments in your vertebrae but can be corrected through our expert chiropractic treatments designed to focus on and alleviate the source of your pain.
Headaches – Headaches can be the result of ongoing neck and shoulder tension and tightness, which can cause your vertebrae to become misaligned. Quality chiropractic care can address the misalignment and eliminate these painful experiences instead of just being a temporary solution.
Sciatica – Sciatica originates in the lower back and spreads down the leg due to an irritated sciatic nerve. This condition causes pain and numbness and should be diagnosed and treated with chiropractic care to relieve pressure on the sciatic nerve.
Pinched Nerves – Pain and inflammation are the direct results of pinched nerves. Alleviating pain and discomfort from pinched nerves can be achieved by addressing and treating the pressure on the affected area.
Carpal Tunnel Syndrome – Carpal tunnel syndrome originates in the hands and can spread up the arm and into the neck area. The pain and discomfort you experience from carpal tunnel syndrome can be addressed by concentrating chiropractic treatment in the nervous system throughout your spine.
Maintenance Care – Regular visits to our Sandusky Wellness Center is a great way to maintain health and well-being and stay proactive in preventing various injuries. Boost your energy level, increase your mobility, improve your posture and circulation, and bolster your immune system through regular chiropractic care.
Fibromyalgia – Fibromyalgia causes widespread chronic pain throughout the body, immense fatigue, sleeping problems, and even depression and anxiety. To help fight off the various effects of fibromyalgia, schedule a visit with one of our chiropractors today.
Chiropractic Care Tailored to You
If you've been struggling with neck or back pain, don't wait to find lasting relief. Our modern chiropractic methods at the Sandusky Wellness Center will help patients rediscover ease of movement without pain and a renewed sense of balance and well-being. The days of living with chronic pain are now over. Contact us today to schedule an appointment and get started on a highly effective, non-invasive chiropractic treatment plan custom-tailored to your needs.
Why Choose Us
Our Approach to Healthcare
Chiropractic and Medical Care
Our Experience
We Have Fun
Family Atmosphere
You Don't Have To Wait Long