Chiropractic Care in Sandusky, OH
At Sandusky Wellness Center, we treat both adults and children with thorough attention and effective chiropractic techniques.
Taking care of your physical health is always a top priority. Failing to address certain issues, no matter how small they may seem, can create a distraction in your day-to-day routine, and may even cause more severe damage over time. Start improving how you feel today by addressing your health issues head-on.
Whether our patients are suffering from back pain or hormonal issues, we provide them with the best chiropractic care through cutting-edge technology and scientifically proven methods. If you need a chiropractor Sandusky, OH, give us a call today to schedule your free consultation.
All of us here at Sandusky Wellness Center are ready to help you find the cause of your discomfort, as well as a treatment to resolve it as soon as possible.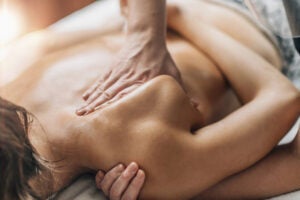 Improve your health with our symptom-first approach
Maintaining a healthy body is important, and Sandusky Wellness Center is here to help. We take care of our patients by providing the finest medical services to those who in need. Our goal for treating each patient is to help them feel stronger, healthier, and pain-free. We examine your current symptoms, but we also work to discover and treat the root cause of your health issue.
The services we offer include:
The Sandusky Wellness Center has a family-friendly atmosphere that welcomes visitors of all ages and backgrounds, so anyone in your family can benefit from our chiropractic care.
Welcoming Approach to Integrative Medicine
Integrative medicine is a form of healthcare that accounts for the entirety of a person's wellbeing. Many healthcare facilities focus on solely treating the disease, but at Sandusky Wellness Center, we look at all aspects of a person's health. Integrative healthcare is for more than just physical health. The staff at our Sandusky, OH integrative health program looks at each patient's physical, emotional, and mental needs to develop an individualized form of treatment. We don't substitute different types of integrative medicine for conventional healthcare. Instead, we combine the two to give each patient the comprehensive care they need to thrive.

Call to schedule your free consultation
At the Sandusky Wellness Center, we make it easy and convenient for you to visit us!
We know you have a busy schedule, so we can work with you to find the most suitable appointment time for you. We also make sure your wait time is as short as possible—usually less than 15 minutes—so you can get back to your responsibilities as swiftly as possible.
After your initial consultation with Dr. Winnestaffer, you'll receive an examination and additional procedures will be recommended, if necessary. A follow-up appointment will then be scheduled so your doctor can go over the examination results and advise treatment plans. Your treatments will take place as frequently as needed until your maximum improvement level is reached.
Don't wait to begin your journey to a happier, healthier lifestyle—taking good care of your body helps you move better and sleep better, boosts your concentration and focus, and gives you a more positive attitude overall. Contact Sandusky Wellness Center today and start feeling better!
Why Choose Us
Our Approach to Healthcare
Chiropractic and Medical Care
Our Experience
We Have Fun
Family Atmosphere
You Don't Have To Wait Long