Myofascial Therapy in Sandusky, OH
Learn the Details about Myofascial Release Therapy
We all want to live a pain-free life. Unfortunately, many of us deal with injuries or chronic pain and do not have the funds to spend thousands on medications. For those of us who need affordable pain relief options, Sandusky Wellness Center is the ideal choice. Our professionals are experts in integrative medicine and the array of treatments that fall under that umbrella. Many of our Sandusky, OH patients take advantage of myofascial release therapy to relieve some of their chronic pain. The team at our facility is happy to explain the numerous benefits of this treatment and the ins and outs of scheduling a session with us. When you need myofascial release therapy, look to the team at Sandusky Wellness Center.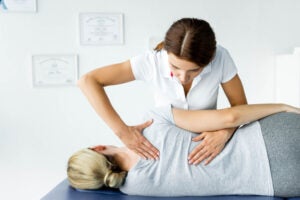 What Is Myofascial Release Therapy?
Myofascial release therapy is a treatment we use at Sandusky Wellness Center to alleviate pain and increase mobility. Our providers will apply gentle, sustained pressure to areas where the myofascial connective tissue is restricted. This continued pressure allows the fascia to stretch and release tension. Myofascial release therapy is typically completed during one-on-one sessions with a member of our team. This hands-on treatment is safe for patients and does not use any oils or creams that may cause an allergic reaction. Our team would be happy to explain the therapy process in even more detail.
What Myofascial Release Can Do for You?
Myofascial release therapy is a procedure that benefits patients dealing with an array of conditions. While you might expect that this tension-releasing treatment is only effective for muscle injuries, that is far from the case. While this therapy is often recommended to address sports injuries and whiplash, myofascial release is also used to address the following conditions:
Muscle spasms
Carpal tunnel syndrome
Poor posture
Chronic headaches and soreness
Limited mobility
Take Advantage of These Benefits
With so many conditions that can be addressed with myofascial release therapy, it's no wonder that this treatment comes with so many benefits. Not only will you take advantage of increased comfort, but you'll also enjoy health perks that may last for years to come. Ask our team about these benefits and numerous others:
Proper Circulation: Good blood circulation means more oxygen spread throughout your body. In turn, increased oxygen results in fewer illnesses and the enhanced ability to fight off disease.
Muscle Strength: Opting for myofascial release therapy can have enormous benefits for your muscles. You may find it easier to maintain strength.
Improved Immune System: The better your immune system, the less chance you have of contracting certain illnesses. This type of treatment can strengthen your immune system so you can live a healthy life.
Less Muscle Soreness: Muscle soreness is a common ailment with which our patients struggle. Whether they're athletes or simply feeling the effects of age, myofascial release therapy can alleviate some of their discomforts.
Better Nerve Function: After a myofascial release therapy session, many patients experience heightened nerve function.
Get in Touch with Sandusky Wellness Center
The team at Sandusky Wellness Center is always here to answer your questions and address your concerns. We understand many of our patients likely don't have a background with myofascial release therapy, so we'll make sure you're up to date on this effective treatment option. When you visit our Sandusky, OH clinic, you can expect friendly staff, exceptional care, and a comforting environment. Our team is with you every step of the way as you look to alleviate chronic pain. Contact us today to learn more.
Why Choose Us
Our Approach to Healthcare
Chiropractic and Medical Care
Our Experience
We Have Fun
Family Atmosphere
You Don't Have To Wait Long