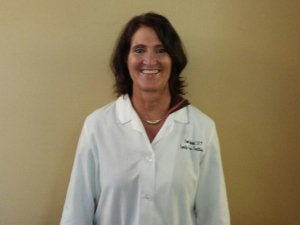 Pam Dymond, RN, MSN, FNP-C
Pam is a graduate of Bowling Green State University and received her Diploma of Nuring at Providence School of Nursing. Pam earned her Master's Degree of Nursing at University of Toledo Medical Center in 2007.
Her expertise in the medical field includes the following:
Viscosupplementation knee injections utilizing Hyalgan
Ultrasound Guided Steroid Joint Injection

Knee
Shoulders
Hip
Carpal Tunnel Syndrome
Dequervain's Tenosynovitis
Elbows
Ankles
Plantar Fascitis

Trigger Point Injections:
Headaches
Physical Medicine
In addition to the Sandusky Wellness Center, Pam also works part time as a Nurse Practitioner in the Emergency Departments at Fulton County Medical Center as well as University of Toledo Medical Center. Pam and her husband have three grown children; Derek, Josh and Lindsay as well as three grandchildren; Alayna, Dayne, and Henry. Pam enjoys family time, running, travelling, reading and cooking.
Why Choose Us
Our Approach to Healthcare
Chiropractic and Medical Care
Our Experience
We Have Fun
Family Atmosphere
You Don't Have To Wait Long