Spinal Decompression Therapy in Sandusky, OH
Say Farewell to Back and Spinal Pain
The disruptive and debilitating nature of lasting back pain can be immensely painful. Those who struggle with chronic back pain, neck pain, herniated or bulging discs, sciatica, or other musculoskeletal issues no longer have to rely on prescriptions or surgery to find long-term relief. Sandusky Wellness Center in Sandusky, OH specializes in chiropractic spinal decompression therapy, a non-invasive and effective treatment alternative to help stabilize various issues originating in the back area. Spinal decompression therapy treatments are meant to alleviate abnormal pressure on discs between your vertebrae and can help relieve you of pain and discomfort. If you're experiencing chronic pain in your back, contact us today to schedule an appointment and find lasting relief.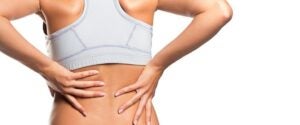 Return to Normalcy with Spinal Decompression
Our patients who suffer from persistent back pain due to bulging, herniated, or degenerative discs in their spinal column have found long-term relief from the vastly beneficial effects of advanced spinal decompression therapy. Those with worn spinal joints and injured or diseased spinal nerve roots can also benefit from our nonsurgical spinal decompression treatment plans. The difficulty you experience from intense back pain can finally be eliminated by using state-of-the-art equipment and modern chiropractic techniques designed to specifically treat many spinal issues. Don't let nagging pain, discomfort, and limited range of motion ruin your daily life – contact us today to get started on a chiropractic spinal decompression treatment plan custom-tailored to correspond with your body.
Decompression Therapy Proven to Eliminate Your Symptoms
Your spinal column consists of vertebrae that are separated by flexible, shock-absorbing discs. When you sustain damage to your back, areas in your spine can severely limit your range of motion. Restricted movement and tension can lead to pressure and swelling of the nerve fibers located in the spinal cord and worsen symptoms such as pain, numbness, tingling in the hips and legs, and fatigue, making life difficult even while at rest.
When you receive spinal decompression treatment, we use advanced technology and a decompression machine to safely stretch and relax your spine, reducing the built-up pressure and restoring the healthy function of your spinal discs and nerves. This treatment can improve movement and flexibility and make the pain vanish after each session. While the time and frequency of sessions will vary from patient to patient treatment plans typically last eight weeks on average. The days of masking your pain are finally over – discover relief from our spinal decompression therapy.
The Quality Recovery Treatment You Deserve
At Sandusky Wellness Center, you'll find professional chiropractors dedicated to providing you with the quality chiropractic care you deserve. We have helped countless patients find lasting relief from pain and discomfort associated with injuries, disorders, and other health issues. Our cutting-edge technology and modern chiropractic techniques are scientifically proven to promote better health and overall well-being no matter your age. If you are suffering from chronic back pain, don't suffer any longer. Contact us today to schedule an appointment and see if chiropractic spinal decompression therapy is right for you.
Why Choose Us
Our Approach to Healthcare
Chiropractic and Medical Care
Our Experience
We Have Fun
Family Atmosphere
You Don't Have To Wait Long