Welcoming Integrative Medicine in Sandusky, OH
Healthcare can be a challenging world to navigate. Patients are often overwhelmed by all the treatment options and the different providers. The mental strain of finding quality healthcare combined with the emotional toll can make the road to recovery a long and arduous journey. Conventional medicine often neglects to consider the mental, emotional, and environmental aspects of health and wellness. However, integrative medicine presents a solution. Sandusky Wellness Center provides the Sandusky, OH community with integrative medicine programs that meld traditional techniques with alternative methods, creating a strategic plan meant specifically for you.
Integrative Medicine at Sandusky Wellness Center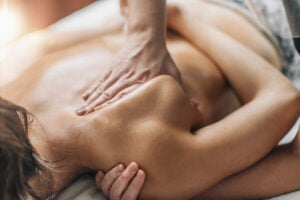 Integrative medicine is an all-encompassing form of healthcare. This method of caring for patients involves combining alternative types of care with mainstream methods. Practitioners of integrative medicine mix the conventional with the alternative to create a form of healthcare that focuses on the whole person, not just the disease or condition. Integrative medicine is often defined according to the following principles:
Fostering a partnership between the patient and practitioner.
Accounting for all factors that influence health and wellness beyond the disease, including aspects associated with the mind and spirit.
Combining conventional and alternative healthcare to promote healing.
Encouraging less-invasive treatments whenever possible.
Basing medicine on good science, meaning practices are inquiry-driven and open to criticism and new ideas.
Adhering to each of these principles, the goal of integrative medicine programs is to address all aspects of a person's health. It strives to treat both immediate health needs and the effects and causes of the condition. Integrative medicine at Sandusky Wellness center examines the relationship between biological, behavioral, environmental, and psychological influences on health and wellness. The integrative wellness programs at our Sandusky, OH facility are designed to match each of the defining principles.
Ethical, Sound Integrative Medicine Programs
It's a common myth that practitioners of integrative medicine are doing nothing more than peddling ineffective treatment and false hope. This belief glosses over that integrative medicine is, in fact, a recognized specialty by the American Board of Physician Specialties® (ABPS). Practitioners of integrative medicine can be certified by the American Board of Integrative Medicine (ABOIM). This organization posits ethical standards that certified physicians should adhere to. ABIOM-certified healthcare providers are expected to honor the ABPS Medical Code of Ethics and promote healthy living and illness prevention, both for their patients and for themselves. The practitioners of integrative medicine at Sandusky Wellness Center are highly trained in their field and are committed to providing the best care for each patient.
A Wide Array of Integrative Medicine Programs
Integrative medicine can come in several different forms. Because part of integrative medicine's purpose is to treat each patient as an individual, it makes sense that there is a wide variety of treatment options under the integrative medicine umbrella. Some of these have become more mainstream over the years, while others are still considered nontraditional. The following are a few popular choices for integrative medicine that the providers at Sandusky Wellness Center specialize in:
Chiropractic medicine: Chiropractic care is one of Sandusky Wellness Center's specialties. Chiropractors can correct misaligned joints and help treat conditions such as arthritis. Contact Sandusky Wellness Center today for a comprehensive list of our integrative medicine programs.
Hormone Therapy: As we age, our hormone production changes. This can have drastic effects on your overall health and happiness. Hormone therapy is a great way to gain energy, sex drive, and quality of life.
Myofascial Release: Fascia is a type of thin connective tissue that wraps most parts of your body, including your muscles. Releasing tension here can help encourage blood flow and reduce pain, among other things.
Find the Benefits in Integrative Medicine
The types of integrative medicine offered at Sandusky come with many benefits. Integrative medicine's goal is to treat the whole person, not just a specific condition. Integrative medicine sets the foundation for overall health based on a strong partnership between the physician and patient. Although integrative medicine is sometimes written off for being an alternative form of healthcare, it can provide a comprehensive approach to a person's wellness. Integrative combines all kinds of alternative methods with conventional medicine to allow for the best treatments possible, addressing all the patient's concerns. Moreover, patients and practitioners have countless choices when it comes to choosing treatment methods. The integrative medicine practitioners at our Sandusky, OH office can help you decide which treatments are best for your health condition and wellness goals. Contact Sandusky Wellness Center for more information on what integrative medicine can do for you.
Be Aware of Integrative Medicine's Risks
As with any medical treatment, integrative medicine programs come with their fair share of risks. Some providers may claim that the alternative methods to healthcare are substitutes for standard medicine. This, however, is entirely untrue. Integrative medicine is about combining alternative practices with conventional ones. If you choose integrative medicine as a form of healthcare, be aware that you will still need to seek traditional treatment for certain conditions. Additionally, not all integrative medicine programs work for everyone, and certain procedures are not recommended for people with particular health concerns. It's essential to stay in communication with your healthcare provider about which integrative treatments will work best for you. Ask your Sandusky, OH integrative medicine experts about your options today.
Why Choose Us
Our Approach to Healthcare
Chiropractic and Medical Care
Our Experience
We Have Fun
Family Atmosphere
You Don't Have To Wait Long