Immunotherapy in Sandusky, OH
Treat Allergies and More with Immunotherapy
Are you suffering from chronic allergies? Perhaps allergies are not a problem for you, but you have dealt with asthma your entire life. Whatever the case for you, immunotherapy may be an effective treatment option. Patients with these respiratory conditions, as well as cancer, can benefit from immunotherapy's set of treatments. At Sandusky Wellness Center, we strive to offer exceptional immunotherapy treatments to improve the quality of your life. Millions of people throughout the United States are affected by allergies, asthma, and cancer, and we're dedicated to providing excellent treatment with minimal side effects. Learn more about what our Sandusky, OH clinic can do for you.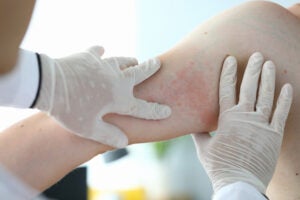 What Is Immunotherapy?
Immunotherapy consists of several treatments that fight diseases, especially cancer, using the body's immune system. Some of these treatments may be effective at boosting the immune system's defenses, while others are meant to help the immune system attack cancer cells. In addition to various cancers, immunotherapy may also be useful for combatting the symptoms of allergies or asthma. Let the team at Sandusky Wellness Center determine if immunotherapy will be an effective treatment for you.
The Uses of Immunotherapy
Immunotherapy can have numerous effects on the body and has many uses. At Sandusky Wellness Center, we will evaluate your condition and determine if immunotherapy is the best choice for you. Our team typically recommends this treatment for the following reasons:
To provide meal planning and nutritional support
To boost the immune system and fight cancerous cells
To normalize nerve signals
To offer an alternative treatment for severe allergic reactions
Understanding the Benefits of This Treatment
Immunotherapy can provide you an array of benefits. If you are struggling with cancer or chronic allergies, be sure to ask the team at Sandusky Wellness Center about the numerous advantages of immunotherapy. Below, you'll find just a few of the many benefits our patients report after undergoing this type of treatment:
Supplement to Other Cancer Treatments: Immunotherapy may increase the effectiveness of other cancer treatments when used together.
Reduced Side Effects: Many patients report fewer side effects associated with immunotherapy when compared to other cancer treatments.
Long-Term Allergy Relief: Chronic allergies are a nuisance, especially if they won't go away with traditional treatments. Immunotherapy can offer long-term relief that typical options won't.
Address Underlying Conditions: Many allergy medications simply treat the allergy. Immunotherapy, however, addresses the underlying conditions that may be contributing to your severe allergies.
Treat More Than One Allergy: Immunotherapy is designed to address multiple allergies. If you come to us with both hay fever and asthma, this treatment may provide relief for both conditions.
Fewer Medications: Those who struggle with allergies often find themselves dependent on oral medications to live comfortably. Immunotherapy treatments mean less dependency on these medicines and fewer costs associated with them.
Learn More from Our Team
If you're interested in immunotherapy, don't hesitate to reach out to our team. We work with patients from Sandusky, OH and the surrounding communities, presenting innovative solutions to allergies, asthma, and more. We understand the struggle of dealing with annoying allergies every day, and we're here to help. The team at Sandusky Wellness Center will evaluate your condition and recommend one or more of our services to alleviate your symptoms. Whether you want to make an appointment for immunotherapy or plan to learn more about our chiropractic care, we welcome your phone call or consultation request. Contact us today.
Why Choose Us
Our Approach to Healthcare
Chiropractic and Medical Care
Our Experience
We Have Fun
Family Atmosphere
You Don't Have To Wait Long