Chiropractic Services for Kids in Sandusky, OH
What is Chiropractic Care for Kids?
At Sandusky Wellness Center, we believe in providing comprehensive healthcare services to our patients of all ages, including children. Our focus is on holistic healthcare options that promote overall health and wellness. We understand that children have unique healthcare needs, and that is why we offer chiropractic care for kids. Chiropractic care is a safe and effective way to support the musculoskeletal system of children. Our experienced chiropractors specialize in providing gentle, non-invasive chiropractic services tailored to meet the unique needs of each child.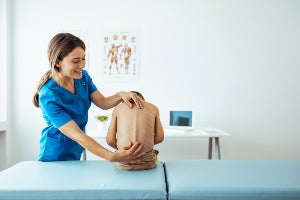 Benefits of Chiropractic Care for Kids
At Sandusky Wellness Center, our chiropractors use a variety of techniques, including chiropractic massage and child chiropractic adjustments, to address these issues and support overall wellness. Chiropractic care in Sandusky, OH, offers a wide range of benefits for children, including:
Improved Sleep – Chiropractic adjustments can help children with sleep disorders and help them sleep better.
Reduced Colic and Digestive Issues – Chiropractic care can help reduce colic symptoms and alleviate digestive issues, such as reflux.
Increased Immune System Function – Chiropractic care can help boost the immune system by removing nerve interference and allowing the body to function properly.
Improved Behavior and Focus – Chiropractic adjustments can help reduce hyperactivity and improve concentration in children.
Enhanced Athletic Performance – Chiropractic care can help improve athletic performance by improving flexibility and range of motion.
Reduced Risk of Injury – Chiropractic care can help reduce the risk of injury by improving the musculoskeletal system's function and alignment.
Improved Posture – Chiropractic adjustments can help improve posture, which is essential for growing children.
How Chiropractors Differ from Pediatric Specialists
While both chiropractors and pediatric orthopedic specialists focus on the musculoskeletal system, there are some key differences between the two. Chiropractors use non-invasive techniques such as chiropractic adjustments to promote healing and wellness, while pediatric orthopedic specialists may recommend surgical interventions to treat more severe conditions. Chiropractors often take a more holistic approach to healthcare, considering the whole person and their overall well-being while other medical professionals address only the symptoms.
Does My Child Need to See a Chiropractor?
Parents often wonder if their child needs chiropractic care. It can be beneficial for children experiencing colic, digestive problems, sleep disturbances, and behavioral issues. Additionally, children who participate in sports or other physical activities may benefit from chiropractic care to improve their performance and reduce their risk of injury. If you are unsure if your child could benefit from chiropractic care, our experienced chiropractors at Sandusky Wellness Center can help you make an informed decision.
Chiropractic Care at Sandusky Wellness Center
At Sandusky Wellness Center, we are committed to providing advanced chiropractic care for kids and their families. Our experienced chiropractors in Sandusky, OH, specialize in child chiropractic adjustments and chiropractic massage to address a variety of issues and promote overall wellness. We believe in taking a comprehensive approach to healthcare, and our chiropractors work with patients to develop personalized treatment plans that address their unique needs.
We understand that parents may have concerns about bringing their children to a chiropractor, and we are committed to providing a safe and comfortable environment for all of our patients. Our chiropractors are experienced in providing gentle, non-invasive care to children of all ages, from infants to teenagers.
Schedule Your Child's Chiropractic Care Today
If you are interested in learning more about our family chiropractic services or scheduling an appointment for your child, please contact us today. Our friendly and knowledgeable staff is available to answer any questions you may have and help you take the first step towards improved health and wellness for your child. At Sandusky Wellness Center, we are dedicated to helping our patients achieve optimal health and wellness, and we look forward to serving you and your family in Sandusky, OH.
Why Choose Us
Our Approach to Healthcare
Chiropractic and Medical Care
Our Experience
We Have Fun
Family Atmosphere
You Don't Have To Wait Long