Sandusky, OH's Premier Chiropractor and Physical Therapy Specialists
Improving Your Quality of Life
If you are struggling with pain or discomfort, it is important to seek the help of a medical professional as soon as possible. While you may not think that ailments such as lingering back or neck pain can be fixed, there are in fact several chiropractic treatment methods offered today that may be your key to a pain-free future. Here at Sandusky Wellness Center, our team of highly-trained chiropractic professionals proudly offers a wide range of specialized chiropractic treatments designed to help with a number of pain and alignment issues. With the latest techniques, a family-friendly atmosphere, and a comfortable and spacious treatment facility, you can trust our experienced doctors and staff team to take care of you from the moment you walk through our doors. Learn more about our chiropractic care below, and call our office at (419) 625-8085 to schedule an appointment with a chiropractor today!
What is a Chiropractor?
A chiropractor is a trained medical professional that specializes in correcting misalignment of the joints in order to alleviate pain and facilitate proper body function. Chiropractors use a number of non-surgical alignment techniques to help with a number of physical ailments. At Sandusky Wellness Center, our chiropractors have decades of combined experience treating patients of all ages across Ohio. We use our expertise and state-of-the-art facilities and procedures to help you feel and function your best.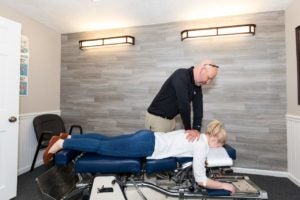 Chiropractic Care at Sandusky Wellness Center
Our chiropractic care procedures are specific to each patient and differ based on the type of pain you may be experiencing. We work diligently to diagnose the source of a particular ache or pain and employ our years of experience and state-of-the-art procedures to give you the treatment you require. Our comprehensive chiropractic care services can help treat the following ailments:
· Back pain
· High blood pressure
· Ear infections
· Headaches and migraines
· Neck pain
· Asthma
· Arthritis
· Scoliosis
Contact Our Chiropractic Care Professionals Today!
Don't let persistent pain keep you from doing the things you love. Improve your quality of life with exceptional chiropractic care from our chiropractors at Sandusky Wellness Center. Our staff is available to answer any questions you have about the chiropractic services we provide for clients throughout Sandusky and surrounding areas. We look forward to helping you towards a pain-free future. Call our office at (419) 625-8085 to schedule a free consultation today!
Why Choose Us
Our Approach to Healthcare
Chiropractic and Medical Care
Our Experience
We Have Fun
Family Atmosphere
You Don't Have To Wait Long