Chiropractic Care in Sandusky, OH
We Help Patients Find Relief from Pain & Discomfort
If you struggle with constant pain and discomfort, you know how disrupting it can be to your daily life. Even sitting at your desk at work or spending time watching a movie with the family can be uncomfortable. The team at Sandusky Wellness Center is here to eliminate your constant discomfort with the help of our chiropractic care. Our clinic, located in Sandusky, OH, is home to a team of highly-trained chiropractic professionals that can provide a number of treatments. These treatments are designed to help relieve a range of pain and joint or spinal alignment issues. With care from our chiropractors, you'll feel better and live a more comfortable life. Contact us today to make your first appointment.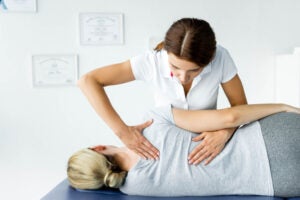 What is a Chiropractor?
A chiropractor is a medical professional who has undergone specialized schooling and training to address misalignment of the joints with the intention of alleviating pain and facilitating proper body function. Using a number of non-surgical alignment techniques, chiropractors can provide relief from a variety of physical ailments. At Sandusky Wellness Center, we have a team of experienced chiropractors as well as state-of-the-art facilities to provide you with advanced procedures that will help you feel better and function at your best.
The Health Benefits of Receiving Chiropractic Care
Our chiropractic treatments can be altered to meet the unique needs of each patient. Our team can personalize the care we deliver based on the type of pain you are experiencing and the specific lifestyle you lead. For example, your job and recreational activities all play a role in how we treat each patient. The health benefits of chiropractic care are extensive, helping you feel better and lead a more comfortable life. Chiropractic care can help treat all of the following ailments:
High blood pressure
Ear infections
Headaches and migraines
Asthma
Arthritis
Scoliosis
Chiropractic Care Can Improve Your Quality of Life
In addition to treating common bodily ailments, chiropractic care can also help to improve your life in many other ways. At Sandusky Wellness Center, our goal is always to make patients feel better, and we know that chiropractic care is the perfect way to improve their wellness overall. With regular visits to our location in Sandusky, OH, you'll see an improvement in your quality of life in all of the following ways:
Reduced Pain: Chiropractors will help to properly align your joints and spine, reducing pain in common problem areas, like the back and neck.
Lower Stress Levels: When you're always in pain, it can take a toll on your mental health as well. By relieving your physical pain, we can also help you feel less stressed mentally.
Better Sleep: It's difficult to sleep when you're always uncomfortable. With less pain, you'll be able to fully relax, helping you fall asleep faster and stay asleep longer.
What to Expect During an Appointment
New patients should expect their first chiropractic visit to take about an hour. It will begin with the chiropractor learning more about your medical history. Next, you can expect to undergo a physical examination by the chiropractor. For this reason, it's best to wear comfortable clothes that allow you to move easily for this appointment as well as all future appointments. The chiropractor may feel the spine, move your joints, and examine the way you walk. You can also expect them to test your muscle strength, reflexes, and range of motion. They'll then use all this information to develop a comprehensive treatment plan to address your issues.
Why Choose Sandusky Wellness Center
At Sandusky Wellness Center, we are more than just a healthcare provider. We take the time to get to know each patient and their needs, building a relationship with them from their first appointment. This allows us to provide better care at every level. That's why our patients continue to return to us for regular appointments. In addition, our team of chiropractors has decades of combined experience treating patients of all ages. Our experience and expertise help us to provide the best care for our patients.
Schedule Your First Appointment
Are you ready to find relief from your constant pain and discomfort? Have you recently suffered an injury that has left you unable to regain your previous range of motion? Our team of chiropractors in Sandusky, OH is here to help you. With years of experience and a passion for helping people, we strive to provide the best care for our patients every day. Please reach out to us today to learn more about the care we provide or to schedule your first appointment. We can't wait to help you feel better and improve your life.
Why Choose Us
Our Approach to Healthcare
Chiropractic and Medical Care
Our Experience
We Have Fun
Family Atmosphere
You Don't Have To Wait Long