Professional Back and Neck Pain Treatment in Sandusky, OH
Ease Your Pain, Relieve Your Tension
Regardless of your occupation, the tension in the back and neck can be a major hindrance in terms of your ability to focus on what's important in your life — be it work, family, or simply doing the things you love to do. According to a survey conducted by the National Institute of Health Statistics, more than 26 million Americans between the age of 20-64 experience frequent back pain, and it is the leading cause of disability in Americans under 45 years old. If you are suffering from back or neck pain, it is important to seek the assistance of a trained medical or physical therapy professional to help alleviate and your condition and stop it from worsening.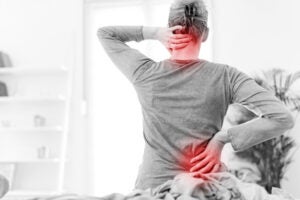 At Sandusky Wellness Center, it is our goal to beat the statistics. Our teams of chiropractors and physical therapists have the knowledge and experience needed to relieve the tension that you carry in your back and neck every day — possibly without even realizing it. We'll work with you to find a specialized treatment plan that works for you. Don't let your back pain or neck pain debilitate you. Let our experienced medical and chiropractic specialists help you get the treatment you need. Contact our office at (419) 625-8085 to schedule a free consultation today!
Causes of Back and Neck Pain
Back and neck pain can be caused by a number of factors, many of which are 100% treatable. Some common causes of back & neck pain could include:
Muscle weakness
Traumatic injury
Obesity
Degenerative disc disease
Osteoarthritis
Fibromyalgia
If you are experiencing pain in your neck, back, or lower body, it may be due to one of the above conditions. Don't think that back and neck pain is something you have to just live with. Call our medical and physical therapy professionals at Sandusky Wellness Center. We can help.
Personalized Treatment That Works
Our highly-trained team of medical professionals has helped hundreds of patients across Ohio alleviate their back and neck pain. We understand that no two injuries are alike, and take the time to formulate a detailed and highly-personalized treatment plan designed to help you with your specific ailment. To learn more, give us a call at (419) 625-8085 and start your journey down a pain-free path today!
Treat Your Neck and Back Pain at Sandusky Wellness Center Today!
Whether your back and neck pain are due to the causes listed above or if they are a product of your workplace environment, the specialists at Sandusky Wellness Center are here to help. Call our office today at (419) 625-8085 for a free consultation.
Why Choose Us
Our Approach to Healthcare
Chiropractic and Medical Care
Our Experience
We Have Fun
Family Atmosphere
You Don't Have To Wait Long