Holistic Treatment for Back and Neck Pain in Sandusky, OH
About Severe Neck and Back Pain Treatment
You should never ignore back and neck pain, especially if it is severe or chronic. Back and neck pain can develop into a debilitating problem that affects your daily life, making it difficult to work or take part in activities you enjoy. Our chiropractors at Sandusky Wellness Center offer neck and back pain treatment in Sandusky, OH, and can perform a physical and do diagnostic imaging to determine if you require chiropractic back and neck pain treatment.
At Sandusky Wellness Center, we are committed to determining the root cause of your pain so we can provide safe, effective treatment. Our neck and back pain treatment plans are tailored to your needs and lifestyle and will address the underlying cause of the pain, rather than relying on invasive procedures or prescription medication.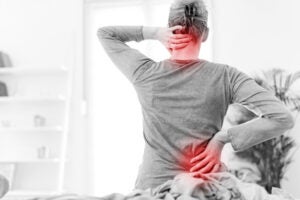 Common Reasons for Back and Neck Pain
To receive quality neck and back pain treatment, a chiropractor will need to figure out the reason for your neck and back pain. There are a variety of things that can cause neck and back pain, ranging from your work or lifestyle to your environment and genetics. Causes include:
Overuse or repetitive stress injuries
Age-related or congenital breakdown of vertebrae in the neck or back, such as arthritis, osteoporosis, or degenerative disc disease
Obesity or other lifestyle choices like smoking or lack of exercise
Accident or injury that causes a sprain, strain, tear, or a slipped disc
Infection, illness, or abnormal bone growth
The most common causes of neck and back pain are overuse or repetitive stress injuries that put added pressure on the neck or lower back. Overuse and repetitive stress include:
Sitting at a desk all day at work
Being on your feet for long periods
Poor posture
Prolonged periods of looking down at a phone or laptop
Exercising or playing sports without the proper form, equipment, or warm-up
All of these situations can lead to and exacerbate temporary or chronic back or neck pain. When you visit us at Sandusky Wellness Center, be ready to provide information about the onset, duration, and type of back or neck pain you're experiencing.
Sandusky Wellness Center Can Treat Neck and Back Pain
At Sandusky Wellness Center in Sandusky, OH, our experienced, friendly staff can provide immediate and lasting relief from back and neck pain. We pride ourselves on our close relationships and one-on-one consultations with our patients, as we recognize that no two back and neck pain treatment plans will be alike. Some of the back and neck pain treatment options offered at Sandusky Wellness Center are:
Spinal Decompression Therapy
Massage Therapy
Physical Therapy
Nutritional, exercise, and lifestyle counseling and education
Among the customized, comprehensive back and neck injury treatment that we offer in Sandusky, we also specialize in:
Personal Injury Treatment
Benefits of Low Back and Neck Pain Treatment
The obvious benefit of back and neck pain treatment is the alleviation of pain. However, back and neck pain can affect every aspect of your life, including your work life, your relationships with family and friends, and your ability to enjoy activities that you used to participate in. Over time, untreated back and neck pain can cause permanent disability and can affect both your physical and mental health. People with severe neck and back pain are more likely to report secondary symptoms such as insomnia, depression, anxiety, irritability, and other dramatic personality changes that can affect their relationships with others.
A chiropractor at Sandusky Wellness Center will tailor a comprehensive back and neck treatment plan to your specific situation, lifestyle, and needs. This means that not only will your pain be managed holistically and medication-free, but you'll be able to enjoy your life again pain-free and with no lasting damage.
Schedule an Appointment for Back and Neck Pain Treatment
If you're ready to start living a pain-free life, Sandusky Wellness Center can provide customized back and neck pain treatment. We offer several integrative medicine programs, including chiropractic medicine, hormone therapy, and myofascial release therapy. We also have urgent care services and provide specialized treatment options for workplace injuries, personal injuries, and sports injuries. Request a free consultation today, contact us via our website, or call us at 419-625-8085 to begin your wellness journey.
Why Choose Us
Our Approach to Healthcare
Chiropractic and Medical Care
Our Experience
We Have Fun
Family Atmosphere
You Don't Have To Wait Long