Personal Injury and Whiplash Treatment in Sandusky, OH
Treating Your Auto Injuries
Auto accidents can be a headache in more ways than one. From a damaged car to lost money to wasted time, the setbacks suffered from auto accidents can sometimes cause us to forget about the most important damaged item: our bodies. Often, the physical injuries sustained in accidents ranging from fender-benders to collisions go untreated due to the mental hassle associated with dealing with the insurance and auto repair companies that follow. If you have sustained any form of physical injury from an auto accident, don't wait — get help. Seeking the care of a trained physical therapy professional is vital in ensuring that your injuries and alignment issues are addressed, especially since auto accident injuries if left untreated, can often cause additional complications down the road.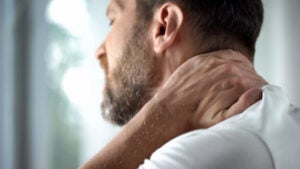 At Sandusky Wellness Center, we know that taking care of your body after a physically traumatic experience is far more important than any automobile repair. Regardless of the state of your vehicle, it's going to be difficult to get where you're going without the sound body and mind that comes with our chiropractic care and physical rehabilitation. That's why we proudly provide a wide range of treatments for patients suffering from personal injuries sustained from an auto accident. Read on to learn more about our treatments, and call our office at (419) 625-8085 to schedule a free consultation today!
Comprehensive Auto Accident and Whiplash Treatment
If you've been in an auto accident, it's important to seek help for your injuries before they worsen. Physical therapy, surgery, and proper medication are all highly beneficial for many sustained auto injuries, and can only be administered properly by a trained medical professional. Here at Sandusky Wellness Center, we combine our years of professional experience with state-of-the-art technology to bring our patients the best care possible for their auto injuries. Some of our commonly treated auto accident injuries include:
Herniated Discs
Fractured Vertebrae
Headaches & Migraines
Strains, Sprains, & Muscle Soreness
Quality You Can Count On, With Sandusky Chiropractic Care
Your body is a temple — and it's the only one you've got. Don't let it go unchecked after an auto accident. Ours trusted Sandusky, OH medical and chiropractic specialists have the experience necessary to get you back on your feet and back on the road. Call our office today at (419) 625-8085 for a free consultation.
Why Choose Us
Our Approach to Healthcare
Chiropractic and Medical Care
Our Experience
We Have Fun
Family Atmosphere
You Don't Have To Wait Long