Auto Accident and Whiplash Recovery in Sandusky, OH
Treat Your Auto Injuries With Chiropractic Care
The physical injuries sustained in automobile accidents often go untreated due to the mental hassle associated with dealing with the insurance and auto repair companies that follow. If you have sustained any form of physical injury from an auto collision, don't wait to get the help you need to recover. Seeking the care of a trained physical therapy professional is vital in ensuring your injuries and alignment issues are properly addressed, especially since untreated auto accident injuries can often cause additional complications later down the road.
At Sandusky Wellness Center in Sandusky, OH, we know that taking care of your body after a physically traumatic experience is far more critical than any automobile repair. Regardless of the state of your vehicle, it's going to be challenging to get where you're going without the sound body and mind that comes with our chiropractic care and physical rehabilitation. That's why we proudly provide a wide range of treatments for patients suffering from personal injuries sustained from an auto collision. Let us help guide your rehabilitation process. Contact us to schedule an appointment today in  Sandusky, OH.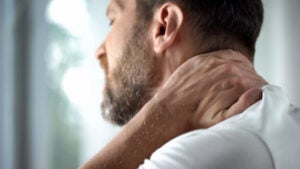 The Causes of Whiplash
Whiplash occurs in the neck area when your head is suddenly sent backward and then forward with such an immense force enough to cause soft neck tissues to extend past the safe range of motion. A whiplash injury usually involves damage to the muscles, tendons, nerves, and discs located in the neck area. While whiplash can often be considered a relatively mild injury, long-term pain and discomfort can be sustained by the effects of the condition. Whiplash is a very common occurrence for those involved in a rear-end automobile collision. Other causes of whiplash can occur from assault or physical abuse, injuries sustained in contact sports, and even some rides found at amusement parks.
Whiplash Symptoms
Although the rapid, forceful movement from whiplash can cause tendons and ligaments to stretch and tear, the symptoms from the injury may not surface right away. Since whiplash symptoms and other injuries sustained from minor auto accidents may take a while to develop, it's important to pay close attention to any physical changes you may experience in the days following an auto accident. Injuries with delayed physical effects can extend symptoms and cause much more unnecessary discomfort if left uncared for. If you experience any of the commonly reported symptoms from whiplash in the following list, contact us today before your discomfort worsens.
Stiffness and Severe Pain in the Neck and Head
Shoulder and Back Pain
Loss of Range of Motion
Dizziness
Headaches
Blurred Vision
Tinnitus
Numbness and Tingling Sensations
Chronic Fatigue
Effective Chiropractic Treatments for Auto Injuries
Don't let your body go unchecked after an auto collision. If you've been in an auto accident, it's essential to seek the treatment you need to rehabilitate your injuries successfully. At Sandusky Wellness Center, we combine our many years of professional experience with state-of-the-art technology to bring our patients the best care possible for auto injuries. Our trusted medical and chiropractic specialists in Sandusky, OH, have the training and expertise necessary to get you back on your feet on the road to recovery. Contact us today so we can get you started on a highly effective and affordable chiropractic treatment plan.
Why Choose Us
Our Approach to Healthcare
Chiropractic and Medical Care
Our Experience
We Have Fun
Family Atmosphere
You Don't Have To Wait Long